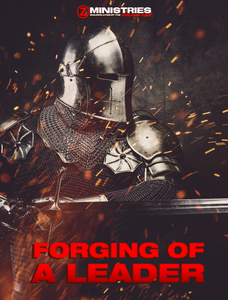 Forging of a Leader
Start the Journey of Discovering Your Life's Purpose Today!
Do you often wonder who you are, where you're going, what's in store for you, and how to get there? Joseph Z will walk you through the path of discovering answers to these questions.
In this supernatural series, Joseph Z details how Idealism, Hidden agendas, and Self-preservation prevents you from actualizing your true potential. You will learn how you can deal with the anxiety that springs from being alone if you're constantly prone to it, and also gain clarification on how your heart is the seat of decision that determines whether you're going to walk in the Spirit, or in the flesh.
Interestingly, this series will uncover truths about spiritual fathers and the requirements that are needed to become one. You'll learn how to truly become a leader through imitating those who through faith, and patience inherit the promises of God. You will also be thrilled with the differences in the leadership of Joshua and Caleb and further gain insights into the reason why it was Joshua who was chosen to replace Moses and not Caleb.
More so, you'll understand what submitting to God means and how you can get your breakthrough by that singular act of submission. Joseph Z further explores the reasons that led to Lucifer rebelling against God; you'll also see how rebellion violates God's ordinances and the natural or supernatural access to the realm of the Spirit.
In this series also, you'll further be enlightened on how a rebellion starts out with hardheartedness, being stubborn, not obeying God, and doing things our way.
Joseph Z will further guide you on how to break rebellion off your life, and how renewing your mind with the Word of God will help you to find your purpose.