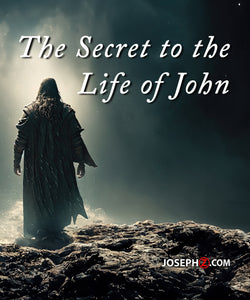 The Secret to the Life of John
There is a revelation available to every believer! A secret that John the Apostle understood, even after drinking the cup Jesus declared he and his brother James would partake of.
In this groundbreaking series, you will discover how to step into the very secret that John walked in and how it applies to you! You can outlast persecution, a bad report, a world gone mad and thrive in the middle of it all!
Beloved, I pray that you may prosper in all things and be in health, just as your soul prospers. — 3 John 1:2
Learn why John outlived all the apostles and disciples. Understand how John's journey is worthy of emulation. Discover what happened in John's life and how he ended with a long life of significance. Find out where John's strength came from.
This series provides secrets into how you can ask things of the Lord that it would seem no one else can; it also clarifies how you can begin to outlive the present evil culture wholesomely while thriving amidst the socio-economic woes.
Interestingly, Joseph Z exposes a prophetic angle on why John lived longer than all other apostles of Christ. He compares the lives of Adam, Seth, Enoch, Kenan, Mahela Jared, Enoch, Methuselah, Lamech, and Noah. He also reveals the prophetic meaning of these names when interpreted in that order and their relationship to the secret life of John.
This series will provide insights on how you can have a longer and better quality of life; discover how your actions can be attached to the Lord of love to the point that you can experience tremendous and dramatic things; including how you can alter the plans of God, according to the Bible, and in a way that is very pleasing to Him!