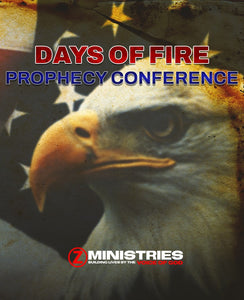 Days of Fire Conference - October 2021
Z Ministries Days of Fire Conference with Joseph & Heather Z joined by special guest including Joshua Feuerstein, Pastor Lawson Perdue, Pastor Arron Perdue, and Massey Campos.
These days require believers to rise up in boldness. In 1 Kings 19:18 Elijah was told by the Lord that he was not alone. Elijah discovered there were 7 thousand more who had not bowed the knee to the spirit of that age, the same revelation is true today. Together we are called to unite in faith and boldness against the spirit of Antichrist.
Prepare to receive powerful messages, information regarding current events, prophetic ministry, and powerful times of impartation! It's time to turn America back to God!