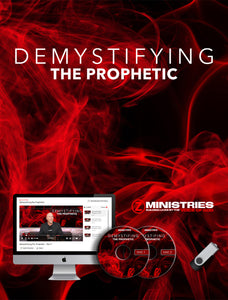 Demystifying the Prophetic
In this Series Joseph Z takes you on an in depth and very clear journey of the prophetic and how it works.
Each teaching will uniquely take you into the word of God and unveil crucial aspects of the prophetic, taking the weirdness out and injecting functional results into your experience while remaining firmly based on the word of God. You will learn that Prophecy is available to every believer and the gift of Prophecy is different from the office of the Prophet. 

You will also better understand a variety of prophetic encounters, as well as how to interpret a revelation, and apply it. You will gain understanding that the gift of prophecy can be imparted by prophetic people you associate with and also by desiring the gift or practicing it.

You will learn the four types of prophecy and how they apply. Throughout this series you will gain confidence and will not be caught off guard by any type of encounter; rather, you will have the tools and knowledge to navigate supernatural encounters, strange happenings, dreams, Visions, deja vu. and much more!