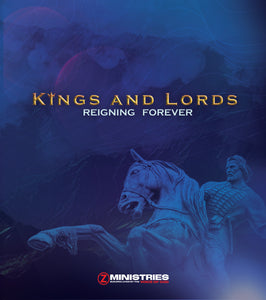 Kings and Lords - Reigning in Forever
What is your motivation for becoming a Christian? Ever thought about it? For many Christians, they just want to avoid hell. However, true Christianity teaches us that we have a far greater purpose for being on earth, than getting 'fire' insurance. All that we do here on earth, is in preparation for a much greater future than most realize… ruling and reigning in eternity!
In this 2 Part series, Joseph explains the concept of ruling and reigning forever. Do you know that YOU are meant to rule and reign in eternity future? Through this lesson, we begin to understand that this is God's ultimate plan for us, to see us rule as the kings we are designed to be, alongside his son Jesus, who is the King of Kings and the Lord of Lords.
Reigning in eternity is a privilege given to us, by virtue of the faithfulness we have exhibited for the things of God, over time. Get ready to be enriched, as you gain insight into the secrets, that can position YOU as a king and Lord in eternity!