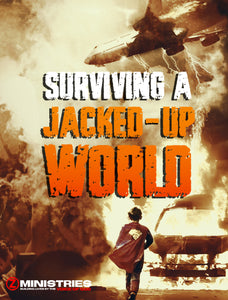 Surviving a Jacked-Up World
In this series Joseph Z teaches on how to survive and thrive in a world of darkness. He elaborates on how the systems and nations of the world continue to silence and put more demands on the body of Christ. 
Joseph also highlights historic events that took place when it came to standing for the truth no matter the cost. Explaining how the governing authorities have been sabotaged to fit into the demonic system to usher in the spirit of Antichrist.
He expounds on how the Body of Christ has the power to thrive and survive by having Jesus as their Lord which gives them peace, authority, and power to overcome.
At the end of this series you will realize that we are called to arise in the boldness and strength of Jesus within us. You will also discover the balance between doing what God wants us to do and obeying the governing authorities.